UPE SUPER ABRASION RESISTANT BLAST HOSE
---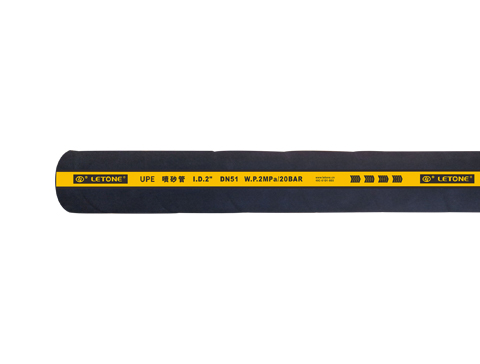 ---
LT788
Application: It is used in tunnel projects,such as laneway, tunnels, slope protection and shortcrete. It widely apply in Hydropower , mining, military defense fields ,etc. 
Inner Layer: Super abrasion resistance,flexibly, anti-adhesion UPE layer
Reinforcement:High tensile synthetic steel cord spiral 
Outer Layer: Black SBR synthetic rubber, with high wear resistance and excellent anti-aging performance, wrapped cover
Temperature Range: -30℃ to +85℃
Features:Light weight, easy to operate, with excellent wear resistance performance, The abrasion performance of inside UPE liner is 3-5 times than abrasion resistant rubber, Which with good yield strength performance, more safety for users.
Standard:DIN53516
---
Technical Parameter
| | | | | | |
| --- | --- | --- | --- | --- | --- |
| I.D. (mm) | O.D. (mm) | W.P. (bar) | B.P. (bar) | Min.B.R (mm) | Weight (Kg/m) |
| 51 | 67 | 20 | 80 | 500 | 2.3 |
| 57 | 73 | 20 | 80 | 550 | 2.5 |
| 64 | 82 | 20 | 80 | 650 | 2.8 |
| 76 | 92 | 20 | 80 | 750 | 3.3 |
| 80 | 96 | 20 | 80 | 800 | 3.5 |